Spiderman Logo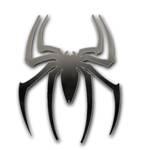 With various super heroes coming in the entertainment world, movie makers are finding out new ways to market their heroes. They have a big investment on line, so a lot of different marketing strategies are used to get a better return of their profit. The one strategy is to introduce a logo that can be used for promotional purposes. One of the prominent super hero logo after super man is said to be Spiderman. The image of spider is beautifully embedded in the logo so as to position it in the mind of the viewers. There have been multiple parts of the movie; the logo has changed for every part to make sure audience recognizes every part with a single look at the logo.
Spiderman logo is one of the renowned symbols in comic character world. It can be seen as the important part of the Spiderman's costume. The logo of Spiderman is widely used by means of wallpapers, jewelry, tattoos, T-shirts, and engraved in number of accessories. The logo uniquely and individually represents the character of Spiderman. Spiderman's strengths, agility, speed, reflexes, and spider webbing ability is represented very well artistically.
From fictional comic series, Spiderman is a very ingenious and popular character created by Stan Lee of Marvel Comics in 1962. The story shows the character peter parker, who gets bitten by radioactive, and genetically enhanced spider. With this bite, he develops into a superhuman having outstanding strengths and agility along with a good sixth sense. He can create synthetic and organic web, clings to walls, increased sensory awareness, excellent vision, and swift moving ability.  The famous logo of Spiderman was designed by Stan Lee, Steve Ditko, and Jack Kirby. It is positioned so well in our minds because we see it as prominently featured in the chest always. The costume of spiderman consists of traditional "red and blue" color, so the logo stands it apart.
On the chest of Spiderman, the logo covers almost the entire width. In the movies you must have seen the logo comes in a close up shot whenever peter parker reveals himself by taking off the shirt. It creates a curiosity in people's mind because at that time he is about to get control of the situation. Even with many modifications, the Spiderman logo has always been part of the Spiderman's costume. Just like Superman, Batman, Fantastic Four, Spiderman also transformed into animated characters and cartoons from comic characters. Later on transformation got Spiderman into television, film, and digital media.
In the comic series, Spiderman logo had black color. It appeared into brownish black color in the motion pictures initially released, Spiderman and Spiderman 2. The logo goes into transformation in the third sequel and silverfish black tone is adapted. This change took place as Spiderman's costume endures transformation into black costume completely. There can be so many variations done in a specific logo, the logo designer reviews gives in-depth analysis of what should be done to a logo.
Spiderman Logo