Armani Logo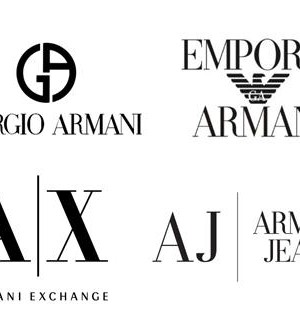 Giorgio Armani is a renowned Italian fashion giant globally. It manufactures sunglasses, apparel, perfumes, cosmetics, and many accessories for both men and women. In 1975, the company was created by two friends in Milan, Sergio Galeotti and Giorgio Armani. In the world, Armani is regarded as one of the most widely famous clothing companies. Popular brands by this fashion giant include Emporio Armani, Giorgio Armani, Armani Exchange, and Armani Jeans.
Giorgio Armani's style means elegance and exclusivity reflected in lines and basic shapes, characterized by the extreme attention to detail and finishing. Always looking for advanced technology, which ensure the product comfort and functionality, the Giorgio Armani uses top quality materials and exclusive to the brand. The collections are sold all over the world are turning to an adult consumers, both male and female. Whoever loves a product sophisticated style and refined, Armani is there for them. Giorgio Armani has always distinguished his collections with clean, tailored lines. The younger, more colorful bridge-line collection in the Armani family gives various options to youth.

Shape of the Armani Logo
There are various logo examples representing different companies under one name. Among all the logos, Emporio Armani logo is the most memorable symbol which consists of an eagle. It triggers the mind of the customers the most as the eagle appears to be looking at the right direction. The eagle in the logo depicts brilliance, supremacy, and premium quality of the brand. We can also say that the brand is keeping an eagle eye on all its respective brand and customers.
According to logo designer review, Giorgio Armani logo is rather classy yet elegant example of a logo design. It is minimalist and comprises of attractive representation of company's initials. A curved "A" completed by a rounded "G" yields a very refined and tasteful identity.
Armani Exchange logo stands apart with its general and overly simple representation.   "A|X trademark" displays a very distinctive and legible design that conveys the message of brand wonderfully. The slick line between the two initials differentiates it from its other three logos in which company initials are used. The Armani Jeans is also represented by a modest typographic logo which represents a unique combination of the two characters; "A" and "J".

Colors of the Armani Logo
Black has always been the signature color for all brands of Giorgio Armani. Black and white is a "never get old" combination hence it gives all logos a limitless life. It creates natural feeling of affection and gives a classy yet powerful impression.