Arsenal logo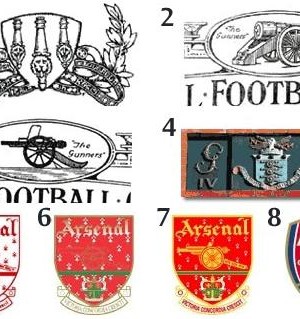 Arsenal Football Club is an English football club which is also known as Arsenal F.C. It is based in Holloway, London and is in the possession by Arsenal Holdings plc. Arsenal F.C is said to be the most renowned, successful and valuable clubs in English football history. The London club was founded in 1888 under the name Royal Arsenal. The gun is a coat of arms Woolwich, an area of London where there were the Royal Regiment of Artillery, military hospitals, and especially warehouse firearms. Initially, these are workers of the Royal Arsenal started playing in the club. Their nickname was the "Gunners" and logo appeared for the club in 1925.
Logo designer reviews that the first crest was three guns pointed towards the north. Shift in 1922, the single gun drawn pointing towards the east. In 1949, the logo color at the bottom was already red to a tribute to the club Nottingham Forest, who helped Arsenal at birth. However, the barrel was adorned with gold. This blazon those who live more than half a century, Victoria Concordia Crescit called (VCC).
In 2002, the Gunners redesign their logo for legal reasons mainly. The London club had indeed no right to the VCC, which deprived him of a substantial cash input. The blue color replaces the green, to the disappointment of purists. A group of supporters, the Arsenal Supporters Independent Association strongly criticized the disappearance of the club motto (VVC). The Gothic script and the shape of the crest were then changed into more artistic form.
In 1888, logo ideas were created and the earliest Arsenal logo was adopted. It symbolized three cannons of the coat of arms of the Borough of Woolwich. This showed the region's military influence. Throughout the years, the cannon symbol changed several times. In 2002, the current version Arsenal logo was introduced. This new logo carried the essence of military by depicting cannon while displaying a more simplistic and modern looks. The excessively decorative Gothic fonts were also replaced with modern bold typeface with less ornate.
Arsenal logo designed with gold color represents splendor and excellence of the club whereas the red color depicts energy, vitality, and passion. Thousands of fans gather around this spectacular modern shrine of football. Its grandeur and charisma cannot be overlooked. It gives a peculiar sensation to all football lovers. Numerous details evoke the memory of the old house gunner, watching Arsenal playing is the memorable evenings of football, for many, it is magical and unforgettable. However, the requirements to adapt to changing times forced to put aside nostalgia to build an ambitious exhibition that determined the future of the whole island except English. And, with the passage of time, the essence of one of the best teams in the history of the Premier is embedded in the walls of the old Arsenal stadium, symbol of triumph and glorious times.